We just got a new Tesla Model Y Long Range. An electric car is of course an opportunity to use even more electricity from the sun. We have always been able to generate more energy than we need, this has now changed with the Tesla. The car has an over 80 kWh battery and we drive long trips in the car. So how much energy can we generate ourselves?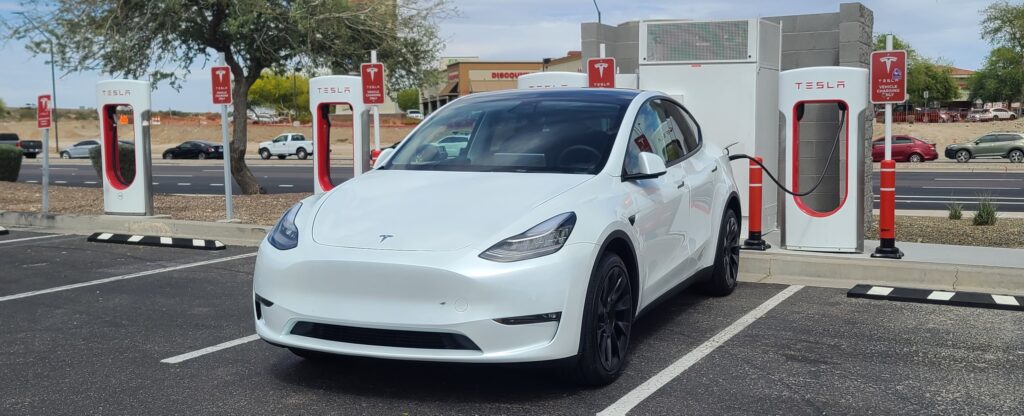 Tesla has several options for charging. The DC Fast Charging required dedicated hardware and is of course not possible from a home setup. Using AC can both 120 Volt and 240 Volt be used for charging. Using 120 Volt is the charging limited to 12 Ampere or 1.44 kW, with 240 Volt is charging supported for up to 30 Ampere or 7.2 kW. In our trailer are both 120 Volt and 240 Volt available, but a limited 5 kWh battery capacity and charging from solar limited to 60 Ampere from 7 345 Watt panels is setting limits. If we can float the battery's voltage 27.2 and 60 amperes of charge is 1.63 kW generated to charge the battery or feed the inverter. That matches the 120 Volt charging pretty well with some loss in conversions. Using this we accomplished 13% added to the battery or more than 40 miles of range.
We have still been able to maintain the charge on the battery bank by stopping the charging early enough to use the rest of the day to charge the Battleborn batteries.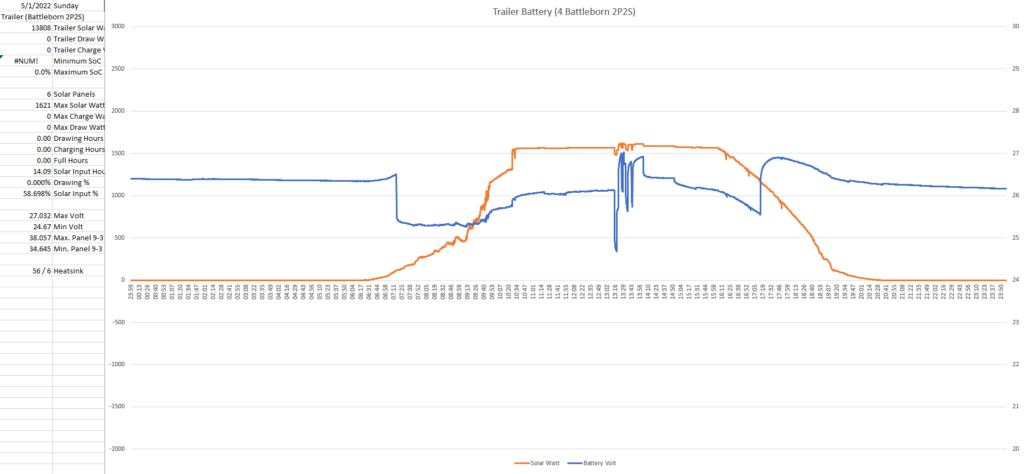 This is of course far from a full charge on the car and the complete charge is going to take days to finish. But getting free energy for driving when staying in the National Forest close to Grand Canyon is very nice.

I'm looking into upgrading the RV and Trailer with new and more solar panels. With a setup like the below can we charge the car 60% in a day and gain close to 200 miles of driving range.

12 kW of Solar Panels, 6.8 kW inverter, and switching the Tesla modules to the trailer for more storage for after sunset charging the car. The RV is also getting an upgraded solar setup for traveling without the trailer. An expensive build, but maybe something for the future.